Guideline on how to choose sliding window handle
September 23,2021
As we all know, doors and windows are essential furniture used by every household and play an important role in protecting our safety. Therefore, as fixed furniture, it is very troublesome to change doors and windows frequently. In other words, it is very important to choose high-quality sliding window handles. Here are some choosing tips: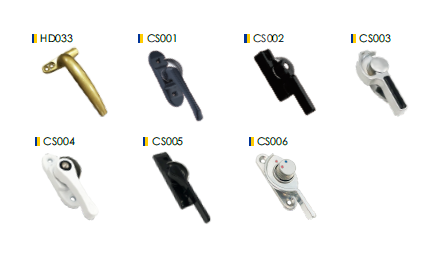 sliding window handle exporter -- Panda
4 ways to choose sliding window handle
Style and aesthetics
When considering doors and windows, please consider the overall effect and the style of the room. You need something that blends perfectly with your color scheme or theme. If you want a classic and traditional look, then brass or polished brass may be a good choice, or glass handles are also perfect for retro-style rooms. You can also install a good quality handle according to your preference, and then paint it to your favorite color, but this may not last too long.
Material
There are many different materials to choose from, and you can match window handles and door handles to make them match. You may want to buy some non-glossy things in your child's bedroom, so choose matt or even plastic, so that they are easier to clean and not easy to stain. Or aluminum handles are also one of your best choices. They are lightweight, resistant to corrosion, and durable.
Though brass is good material of window handles, and looks pretty good, it's a type of soft metal. This means it can be damaged easily if met with a heavy object. If it is in a strong wind, something dangerous may happen.
In a word, material is a must-be seriously considered factor.
Size and practicality
Also consider the size of the handle. You need something that can be easily operated by any type of hand, especially if you have elder who have trouble using the handle. You also need to consider the handle projection when opening and closing the handle, and leave space for your fingers so that you can operate them comfortably.
Quality
Therefore, please consider functionality and practicality, and don't buy things that are too cheap for style and aesthetics, as they may not work as efficiently as you need, or they may be damaged in the future. What you need are stylish and practical handles that will make your windows live longer, which is as important as your other furniture.
Final thoughts
Though the public security is better and better, we still need to make our home as soon as safe, which can give us a sense of security. All of this can start with a high-quality sliding window handles. If you have any interest, welcome to feel free to contact us by 309467925@qq.com.